Oregon Star Party Telescope Walkabout, 2017 edition
Running for more than 20 years, the Oregon Star Party Telescope Walkabout celebrates and promotes telescope making. As a group we walk from telescope to telescope, meeting each builder, listening to their story. What is it about? What works? What doesn't? What would they change next time? Sometimes it is a novel idea, sometimes it is a beginner's first effort. We ask questions as a group, benefiting collectively. The popularity of the walkabout over the years shows its value to amateurs. Ask yourself if you'd rather be answering judges questions or talking about your telescope to an appreciative crowd.
The Oregon Star Party has seen the invention and early adoption of flex rockers, string telescopes, Tensegrity tube structures, wire spiders, computerized drive systems, direct drive motors, TrackBalls, SudiBalls, ultra-lights, three large one meter reflectors, super fast sub-F3 reflectors, folding light path reflectors, travel and folding scopes, novel observing accessories, meniscus mirrors, ultra-thin mirrors, Lurie-Houghtons and Schiefspieglers, a number of binoscopes, club scopes and tracking platforms. Especially we take time to celebrate 'first' telescopes made by kids and adults. Invariably there is a fresh take, a new approach or a novel idea.
This year the largest crowd we can recall participated. The Walkabout is the largest event outside of the star party's concluding door-prize event. We saw a number of cutting-edge telescopes as well as time tested traditionally designed telescopes. Note the increasing use of 3D printed parts. The builders and their telescopes featured this year are:
Bruce Sayre's 14.25 inch F5 binocular telescope
Greg Lobdell's on-site-repaired telescope
Rob and Quinn Brown's Tensegrity 8 and 12 inch telescopes
Kreig McBride's 8 inch refractor
Dan Gray's alt-alt or el-el advanced computerized mounting
Greg Rhode's ultra-lightweight aluminum 15 inch telescope
Nels Johansen's 16 inch string telescope
Mike Dilley's 12.5 inch F2.5 superfast, single arm equatorial telescope
Sameer Ruiwale's 16 inch F4 Tensegrity telescope
Andrew Cooper's hodge-podge tracker
Michael McKeowns's 16 inch split-ring equatorial telescope
Mel Bartels and the gathering fellow walkabouters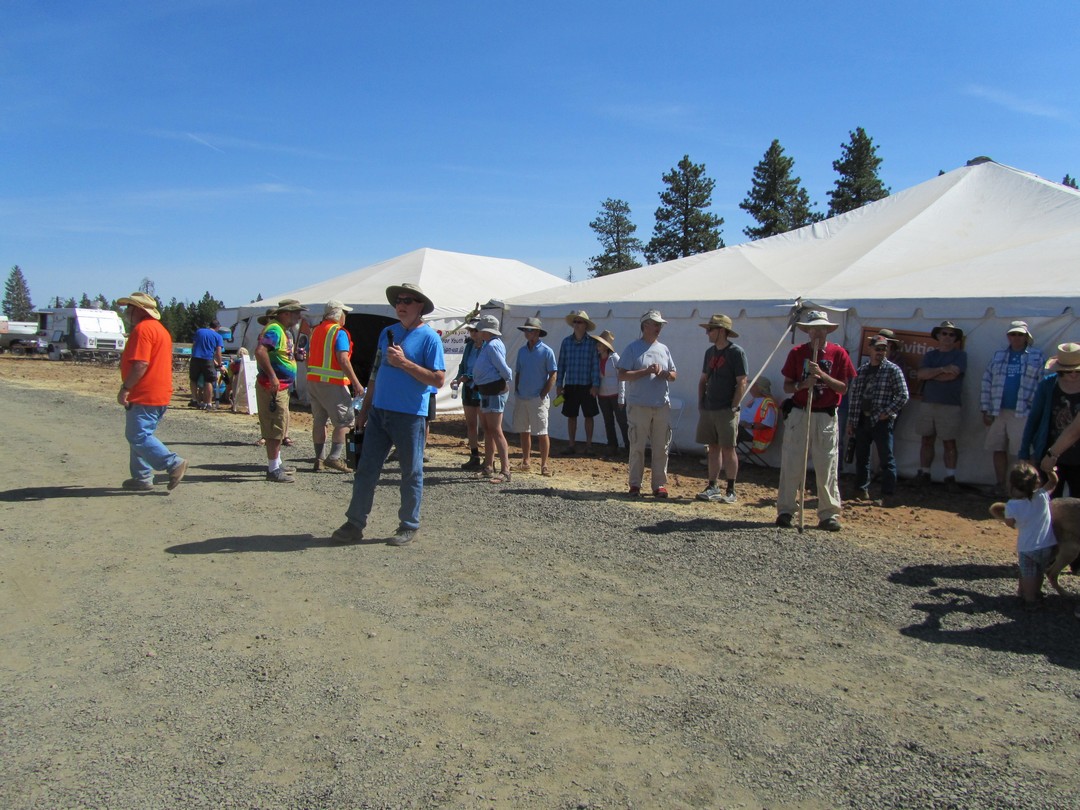 Bruce Sayre's 14.25 inch F5 binocular telescope
InterPupillary Distance (IPD) adjustment is a single knob
Binocular alignment perfect (sub arc-second) through about 70% up and down vertical altitude
Controls the scope through an iPhone running Sky Safari Pro (SSP)
Vibration is controlled
CAD designed
Main assembly is 8022 extruded aluminum
Uses 3D printed parts
Blue steel spiders
Scope disassembles for transport
Half an hour setup using only thumb screws
Base weighs 50 pounds
2.5x the cost of a single mirror'd scope
Mirrors within 1/4 inch focal length of each other
Exhibits stereopsis effects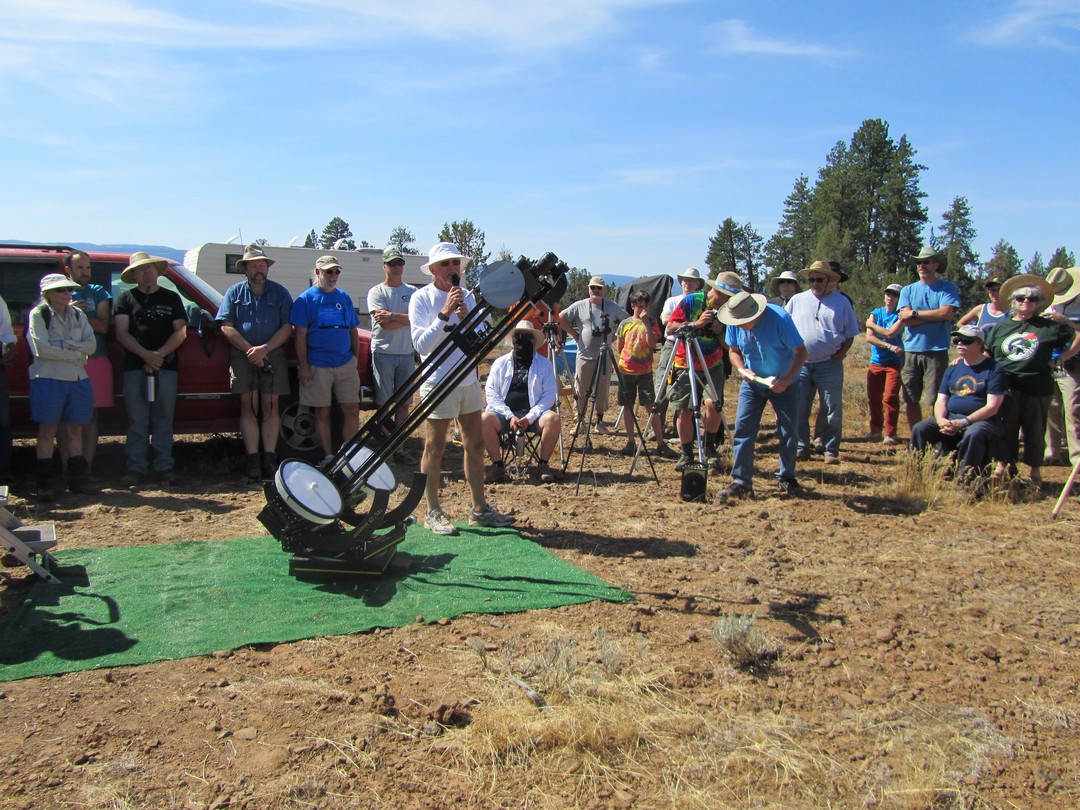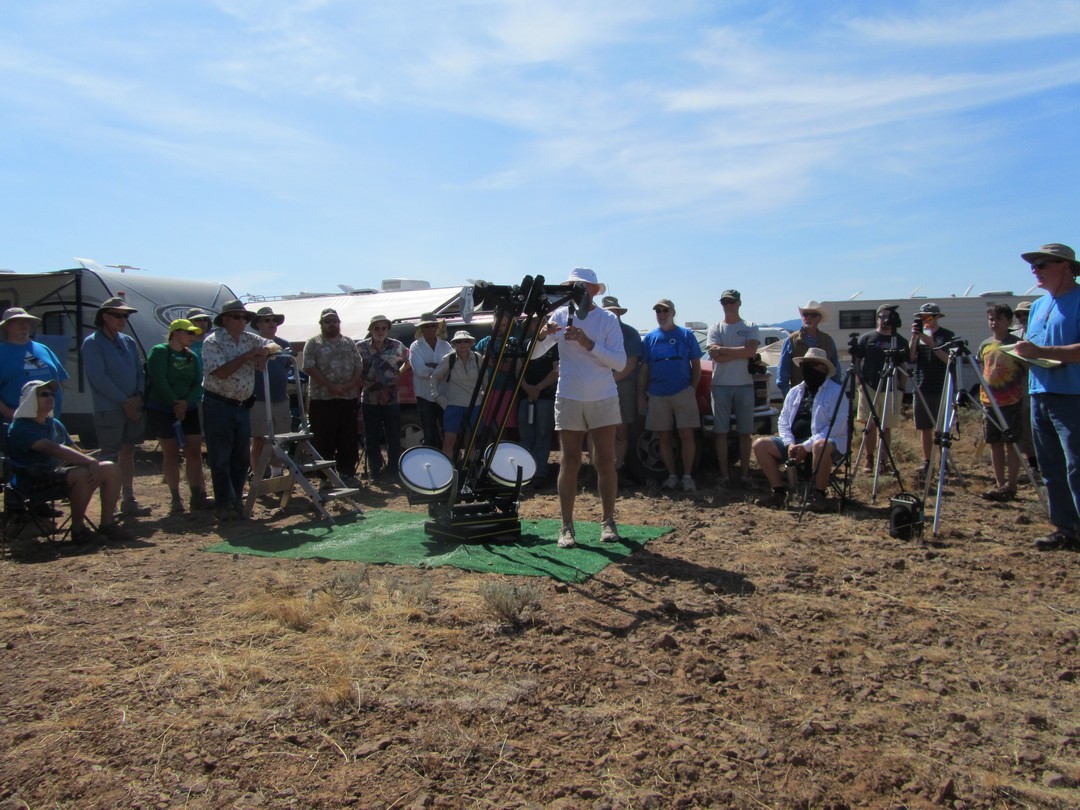 Greg Lobdell's on-site-repaired telescope
Accidently dropped an 8 inch Discovery scope and had to repair onsite during the star party
Used sheet plywood and glue from nearby Home Depot
Ebony Star formica already on hand
The 2nd scope sports a 10 inch Coulter mirror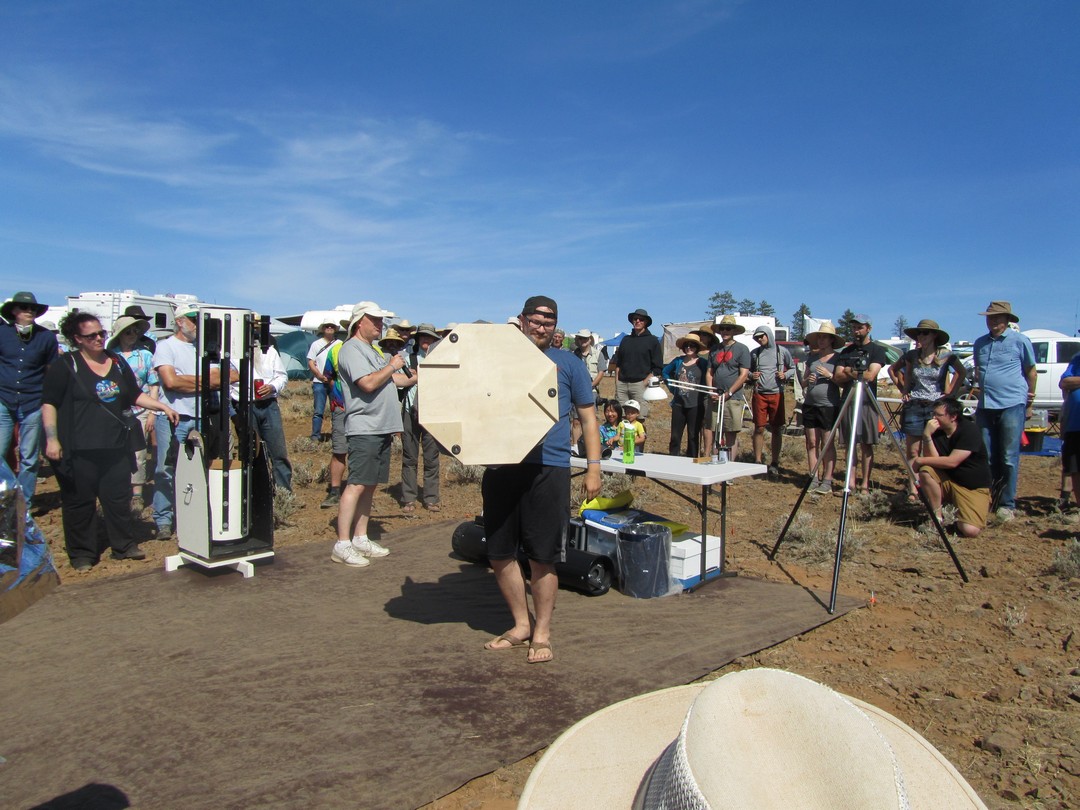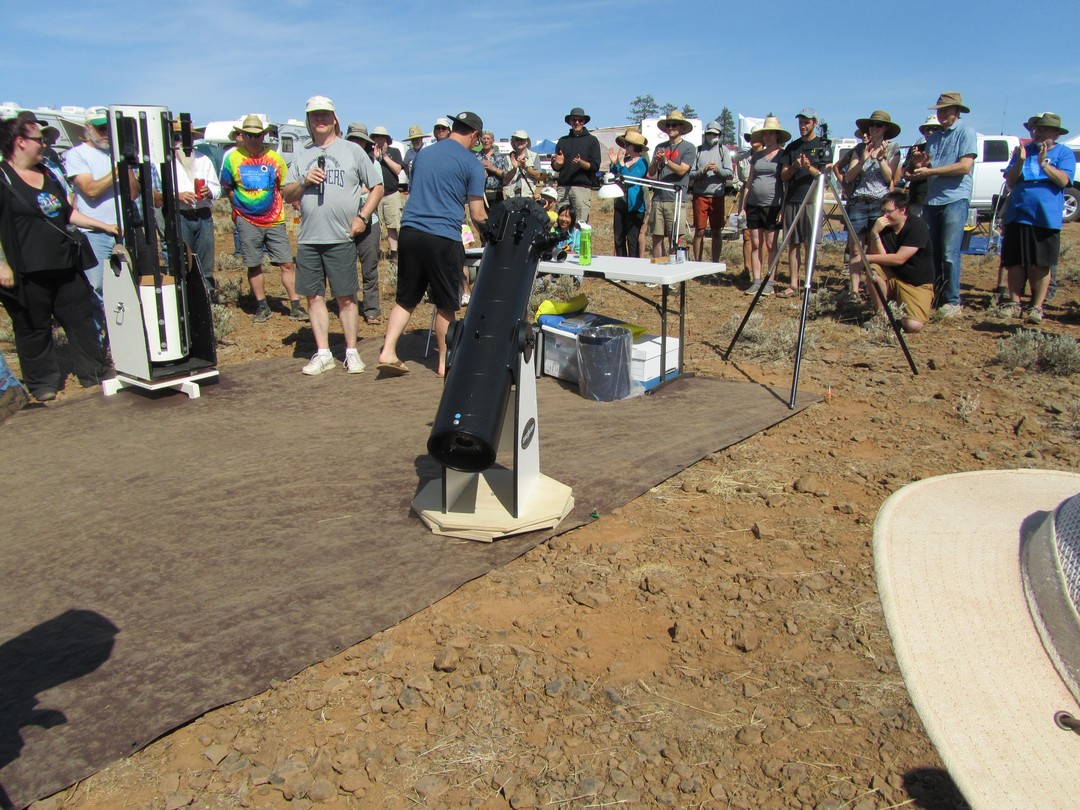 Rob and Quinn Brown's Tensegrity 8 and 12 inch F5 telescopes
Considers Tensegrity string scope design mature after Don Peckham's pioneering design
Tensegrity means 'tension integrity' and uses struts in compression and guy wires in tension
The 12 inch uses a doubled skirt while the 8 inch uses a single skirt
Both scopes use a wire spider
The 12 inch uses wire in tension wrapped around the upper end
The unique periscope-finder located at the bottom of the tube assembly looks up through the Telrad
Uses 3D printed parts
One eyepiece is 3D printed
The 12 inch weighs about 50 pounds
Quinn's first scope is the 8 inch
Quinn recommends starting maybe not quite so advanced
Both mirrors are homemade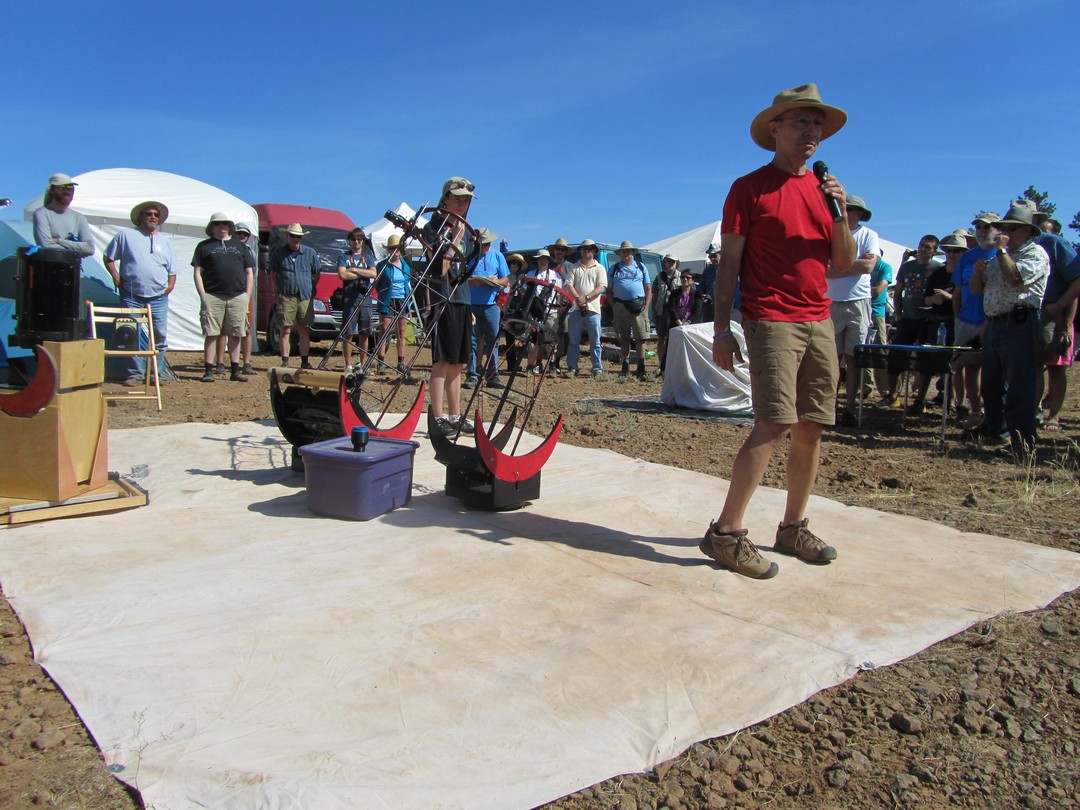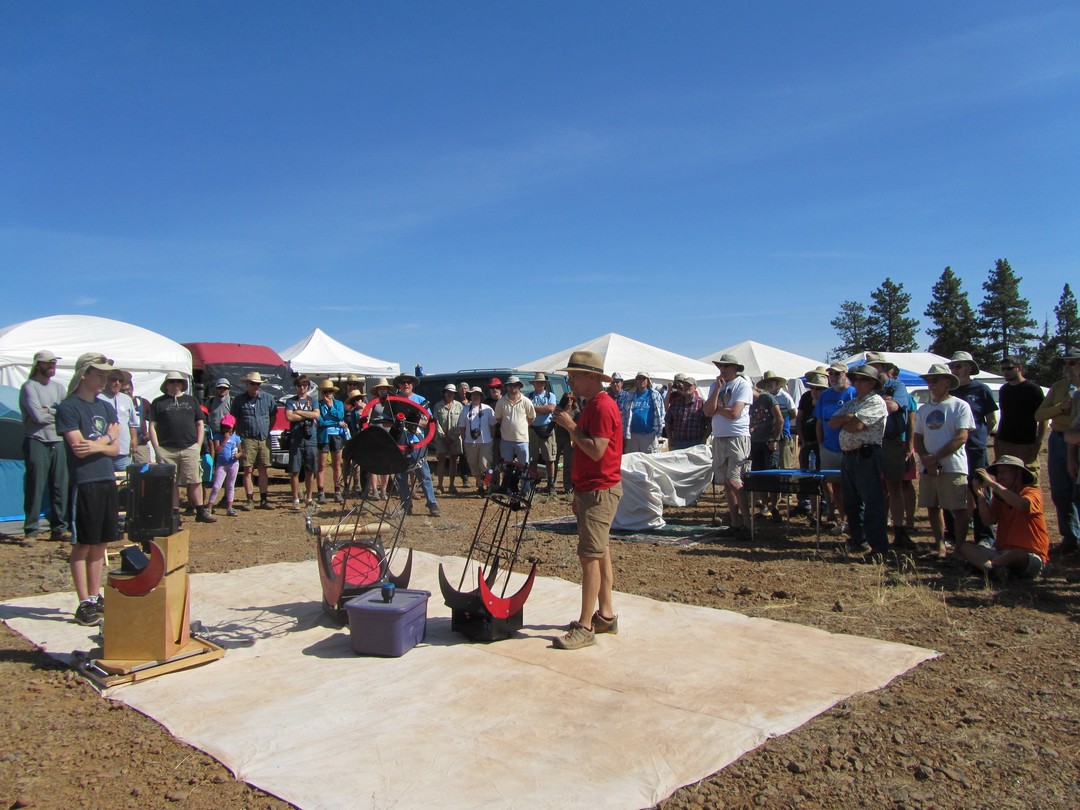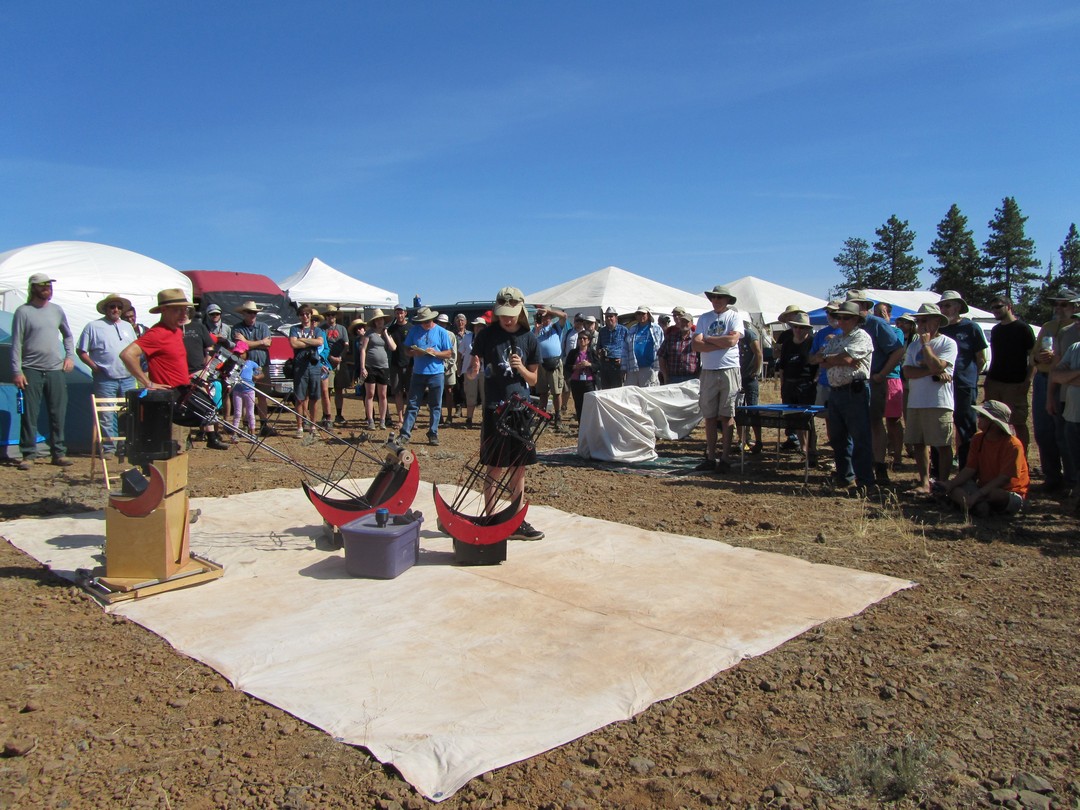 Kreig McBride's 8 inch refractor
8 inch refractor is three deaces old
Purchased the Optical Tube Assembly (OTA) then modified and refurbished the aluminum tube assembly
The mounting is based on Richard Berry's design
Teflon and wood bearings
Multi-eyepiece turret though doesn't fill it with expensive heavy eyepieces
Enjoys planetary observing
There's a little achromatic aberration but it is easily ignored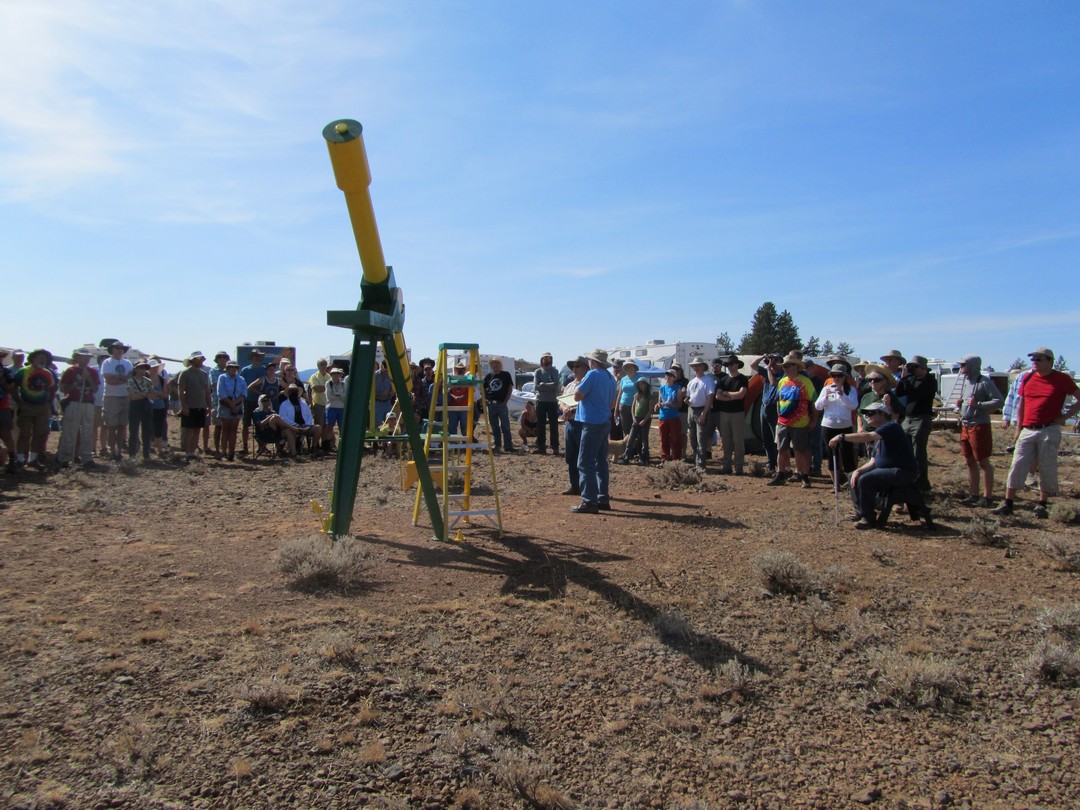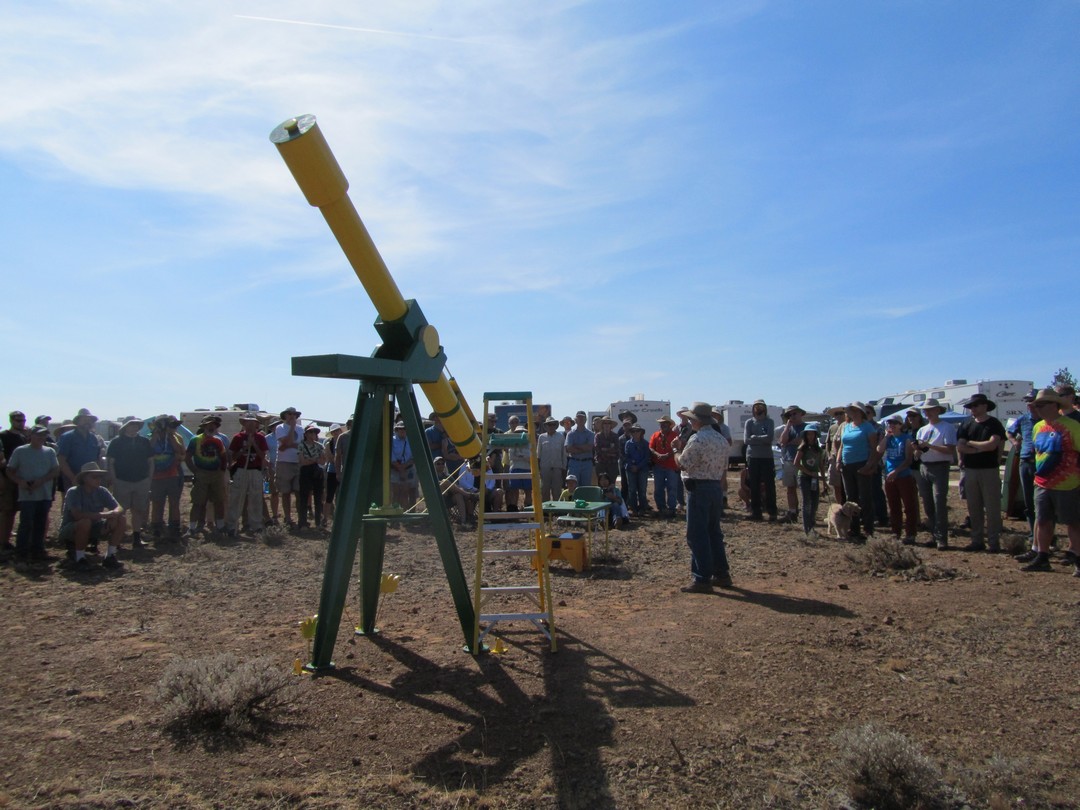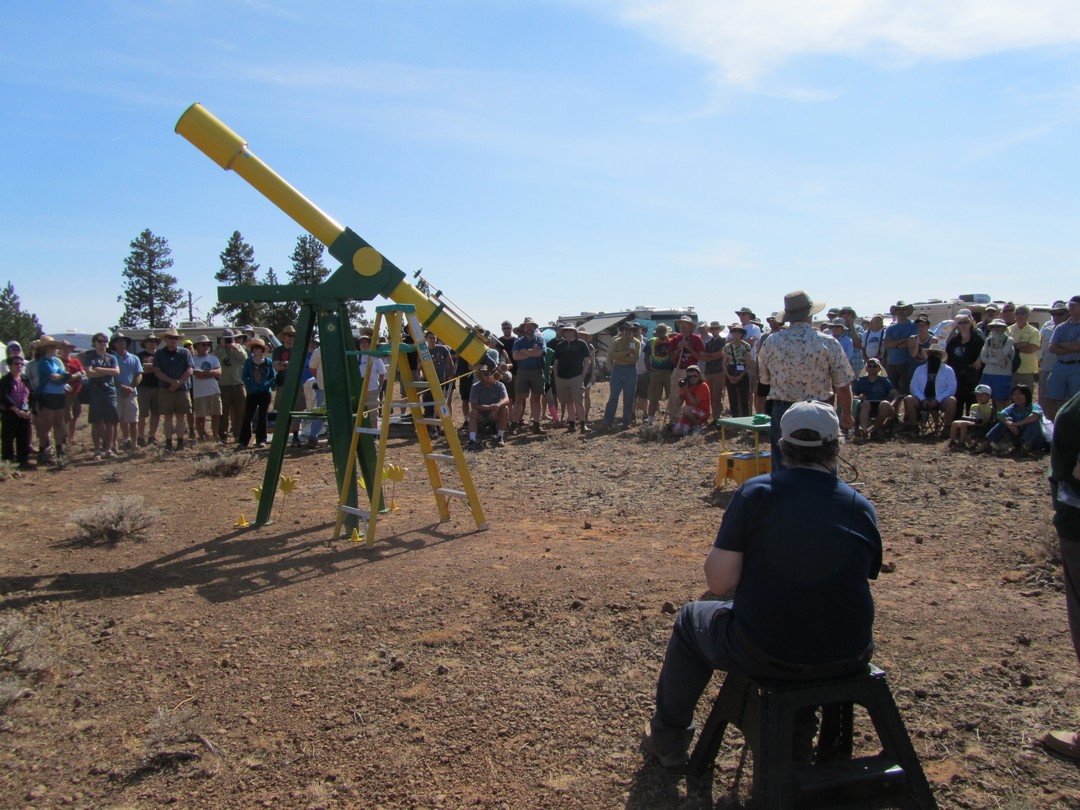 Dan Gray's alt-alt or el-el advanced computerized mounting
Designed primarily for satellite tracking which when aligned azimuthly, can track in a single axis
The advanced computer control doesn't need to be azimuthly aligned though to track satellites
Has 'Dobson's Hole at the ends of the primary axis that point to the horizon
Extremely fast and smooth direct drive brushless motors
Homemade direct drive motors use magnets and coils along with an encoder
Has motorized and computer controlled image rotator and focuser
Can track consistently for five minutes with two arc second accuracy
The control box sports a brushless controller than Dan designed
The thrust and ball bearings sit independent of the mount/base and can be lifted away
The axes names are 'primary' which points to the north/south horizon and 'secondary' which points at 90 degrees to the primary axis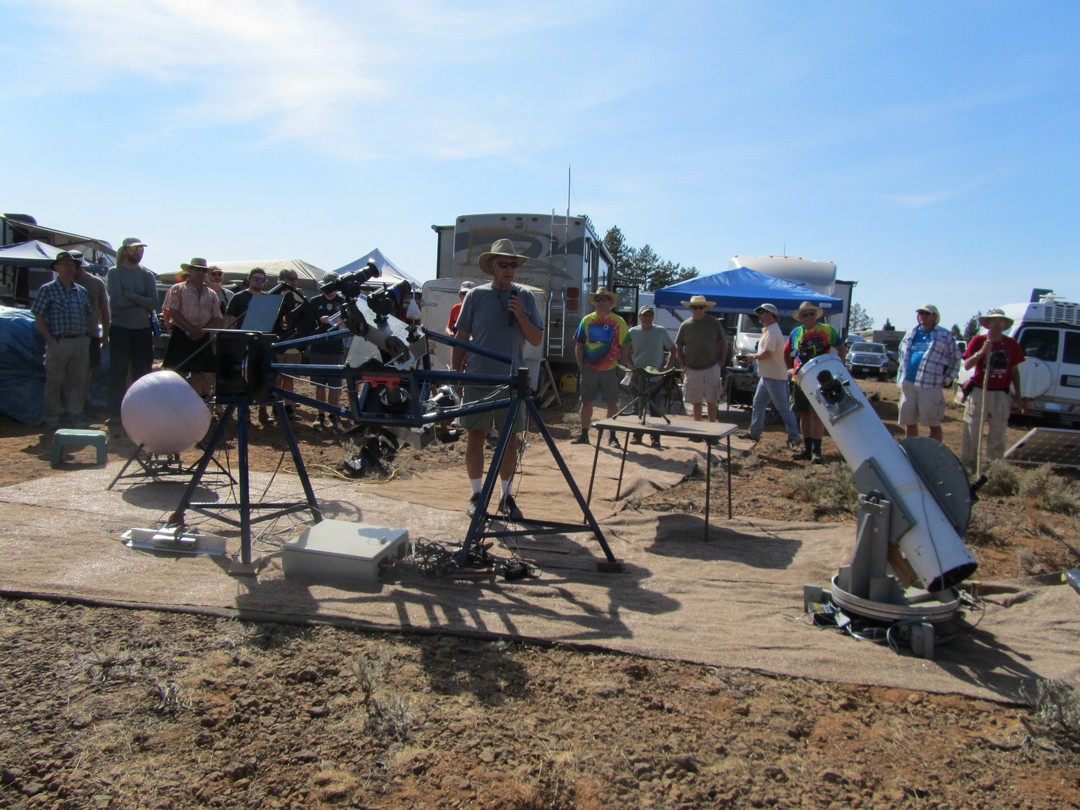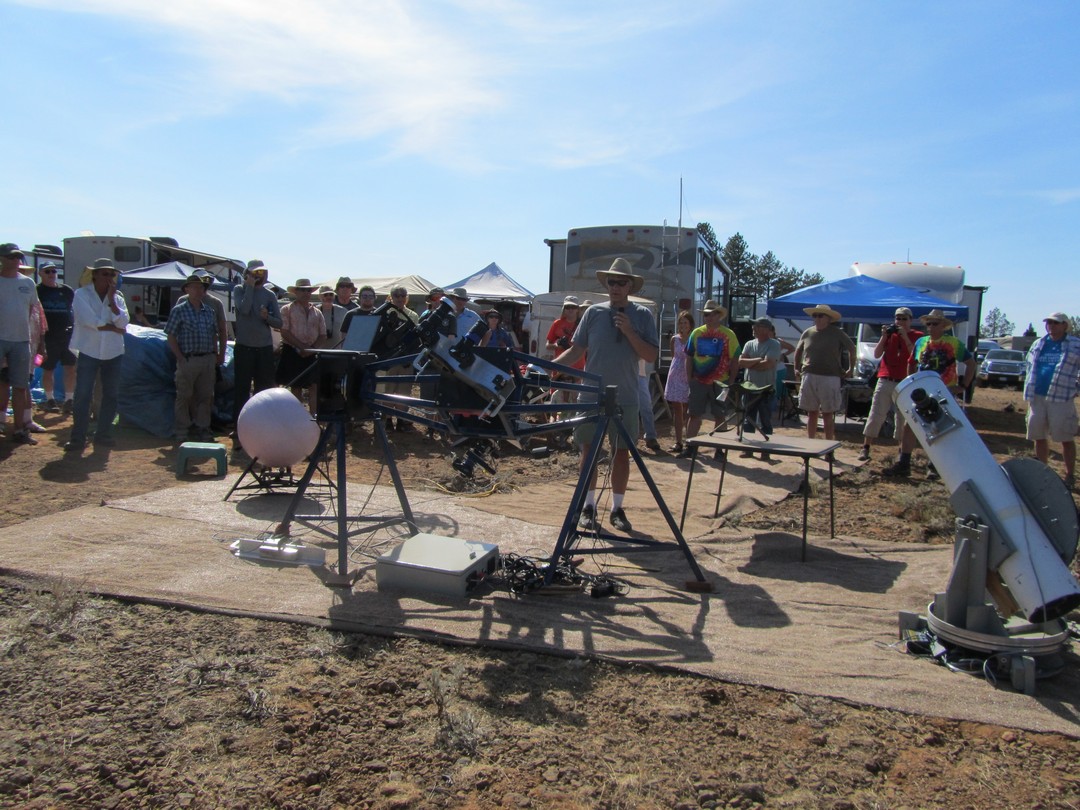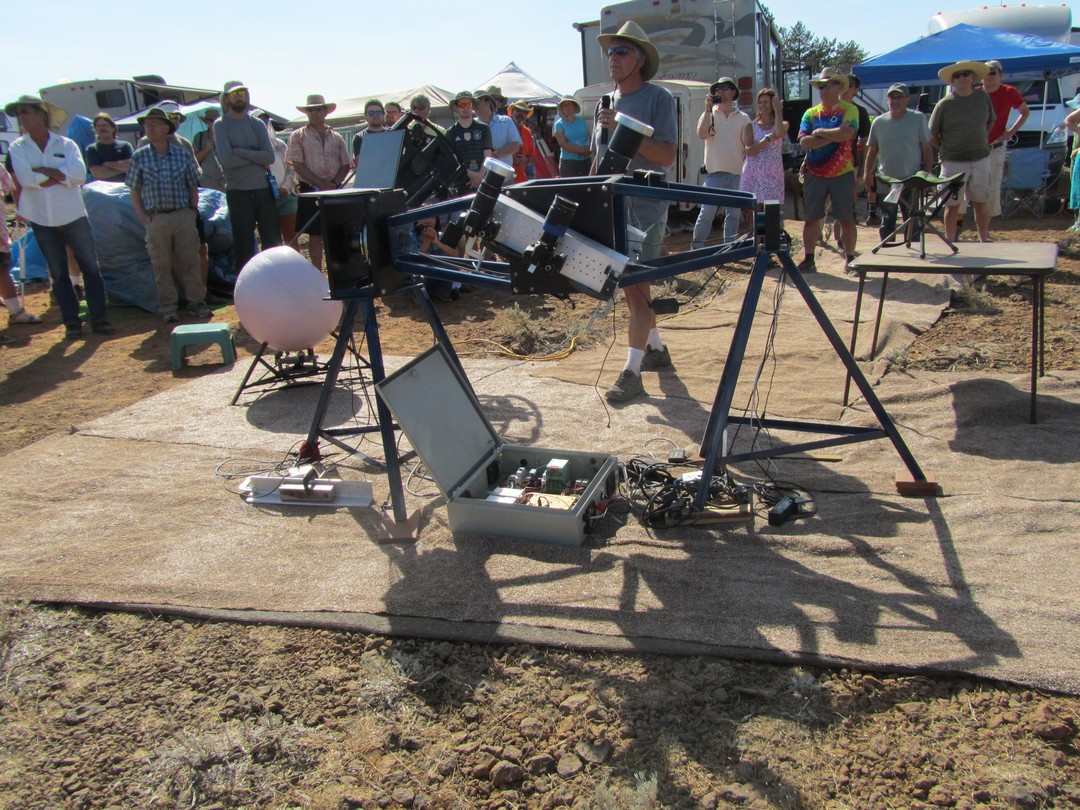 Greg Rhode's ultra-lightweight aluminum 15 inch telescope
Uses a Mark Cowan quartz mirror
Designed and built to be the lightest and most rugged largest possible airplance transportable telescope
Uses a wire spider as designed by Mark Cowan
Square aluminum tube upper end
Standard string scope design
Upper end disconnects from the compression tubes and strings, then bolts to teh mirror box for checked airplane luggage
Base is a minimalist flex rocker design
Water hydration packs for counterweighting: emptied for transport, filled for use
Uses 24 inch mountain bike rims and a 29 inch rim for the base
Scope fits into 22 inch base drum carry case
Greg lifts overhead to show how lightweight the 15 inch scope is - awesome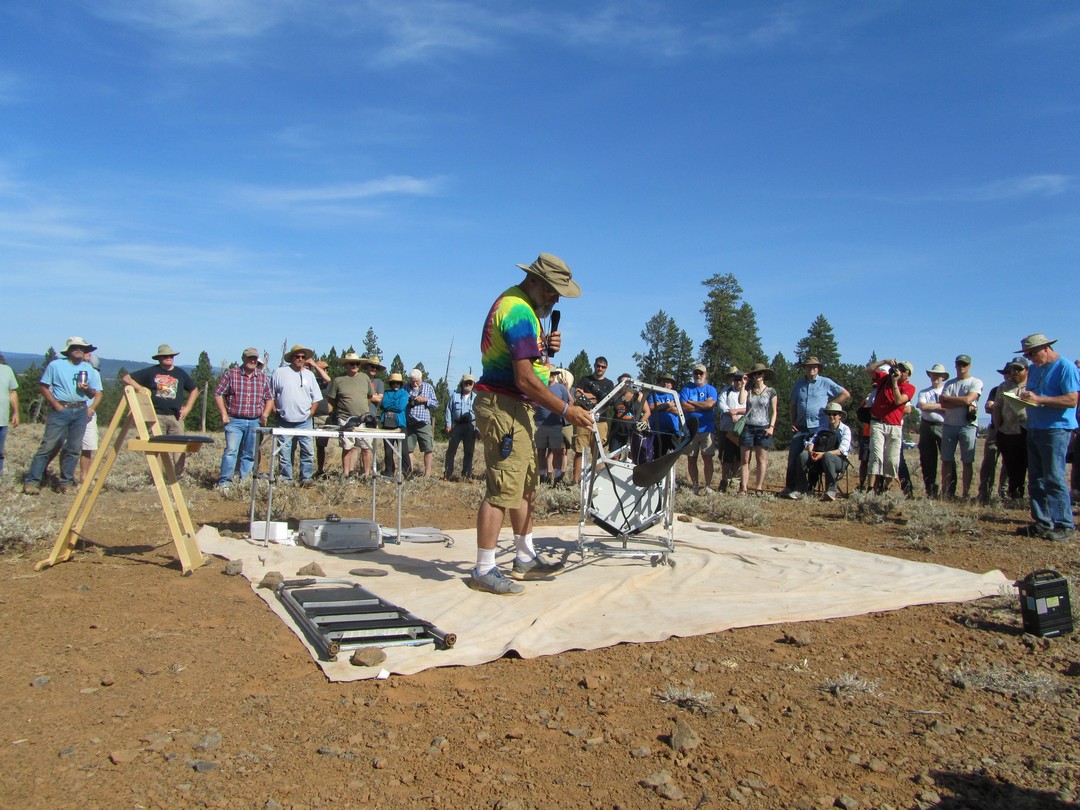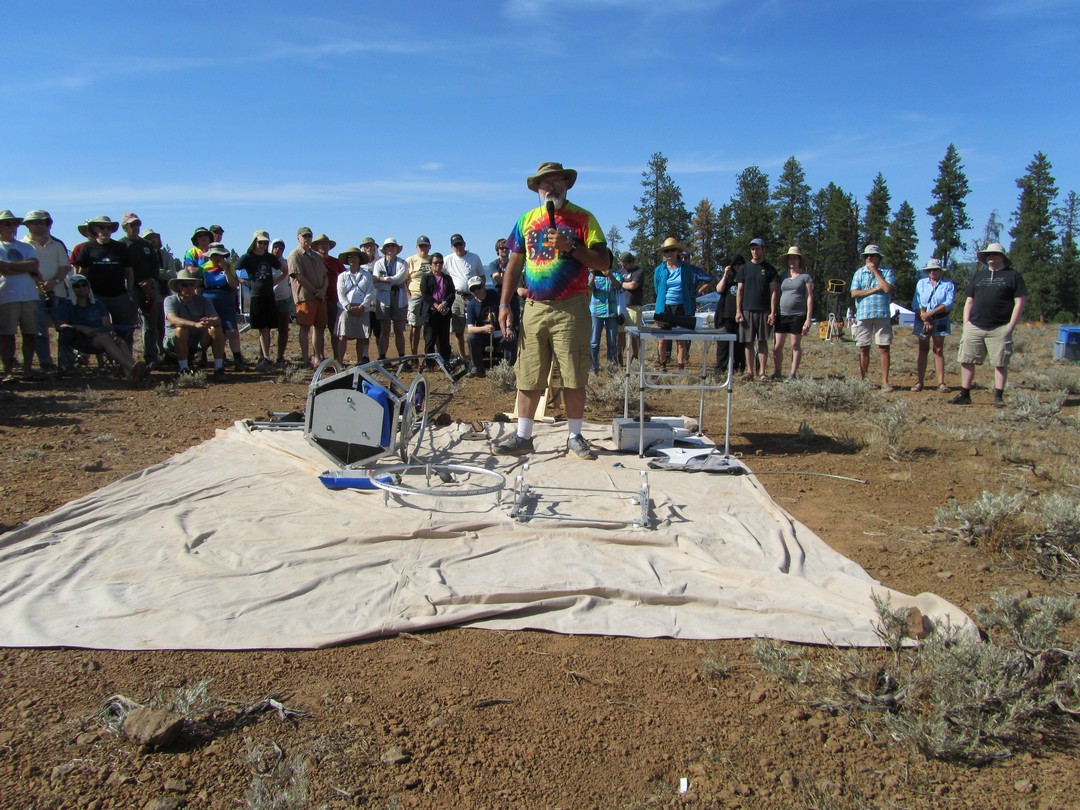 Nels Johansen's 16 inch string telescope
Scope belongs to the Battle Point Astronomical Society near Seattle Washington
Built to be a public loaner scope: very rugged and meant to be heavily used by club members
100 pound overall weight
Unique offset altitude bearings: the arc is a modified sine curve with 7 inch offset
The telescope cannot be tilted backwards off the rocker
Compression tubes use threaded through bolts
Bow string
Heavy dew problem in local environment to heaters are everywhere on the scope including the eyepiece box
Wires conduct electricity to the upper end
Top cover includes a sun filter and a lunar sub-aperture opening
Bearings are skateboard bearings on aluminum
Five minute setup for one person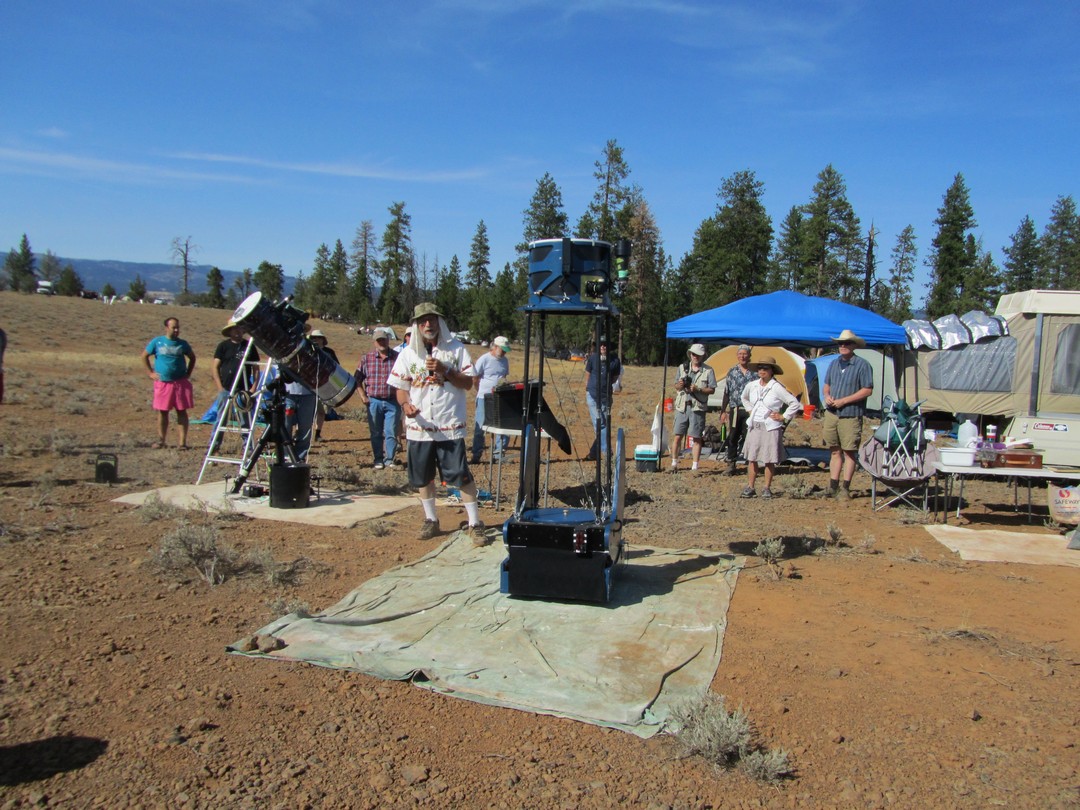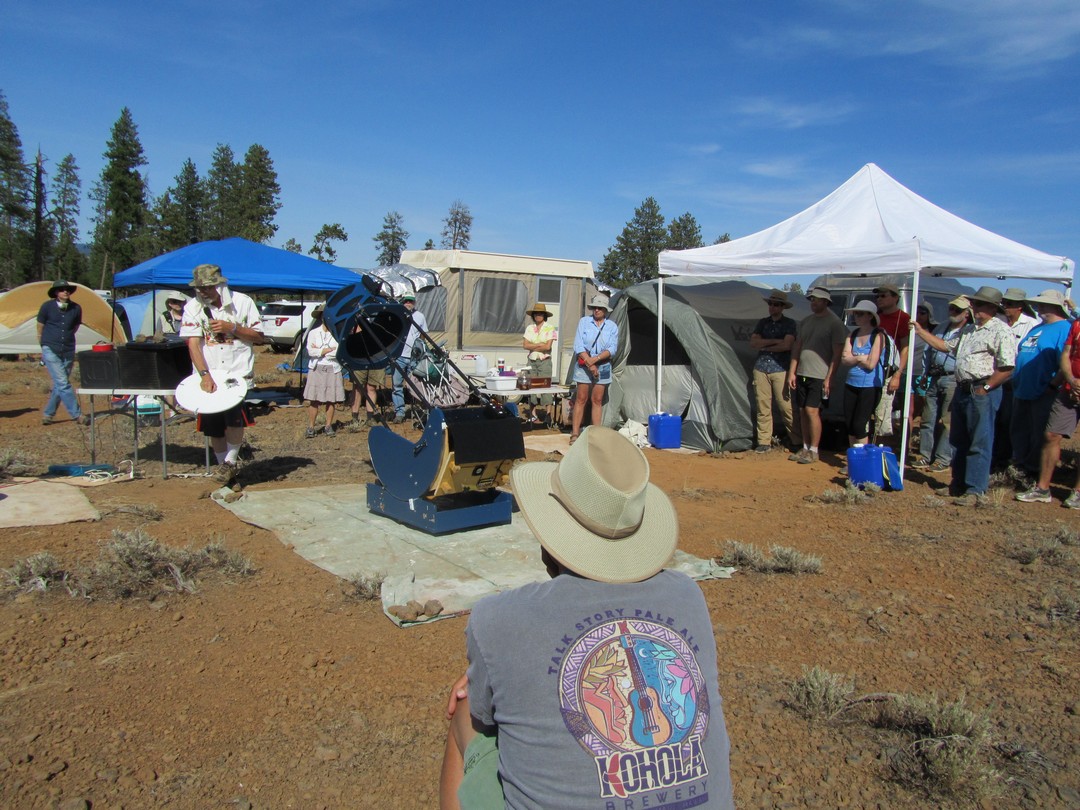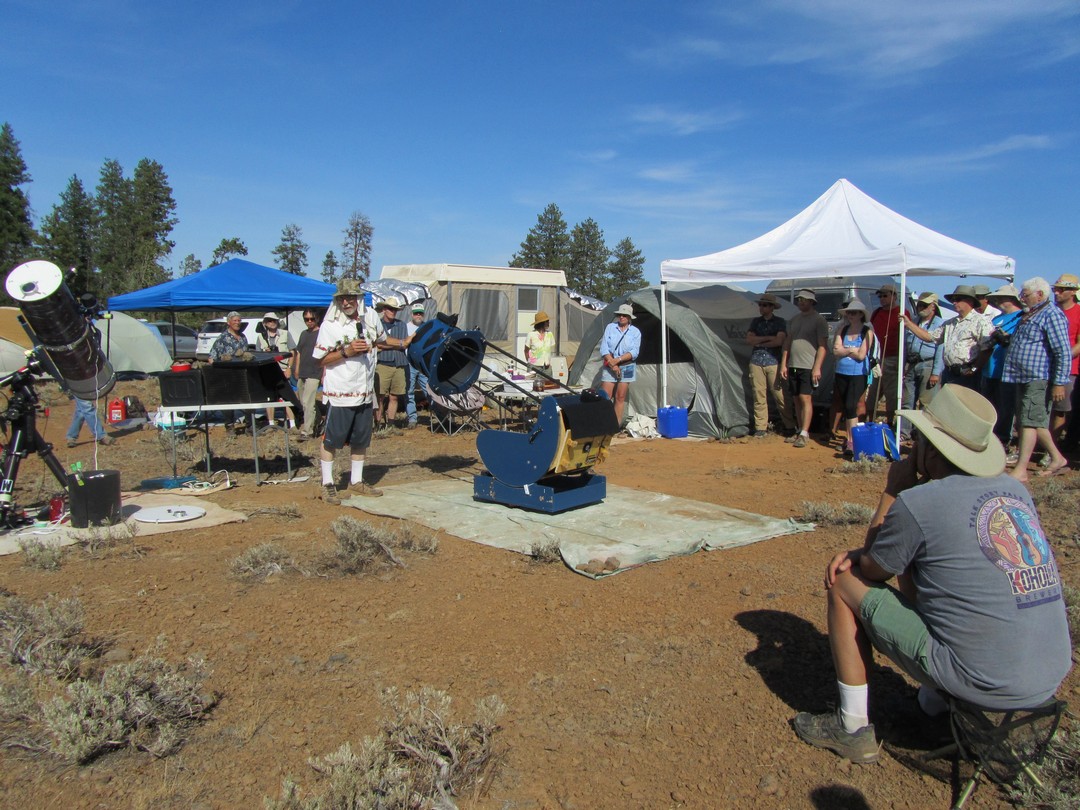 Mike Dilley's 12.5 inch F2.5 superfast, single arm equatorial telescope
32 inch focal length
2.5 degree Field of View (FOV)!
Mirror needs another figuring session or two
Will be equipped with an optional Cassegrain focus - not yet finished
Byers drive
Mount from composite wood and fiberglass
The single arm fork is strong and balances well
Can be setup in one minute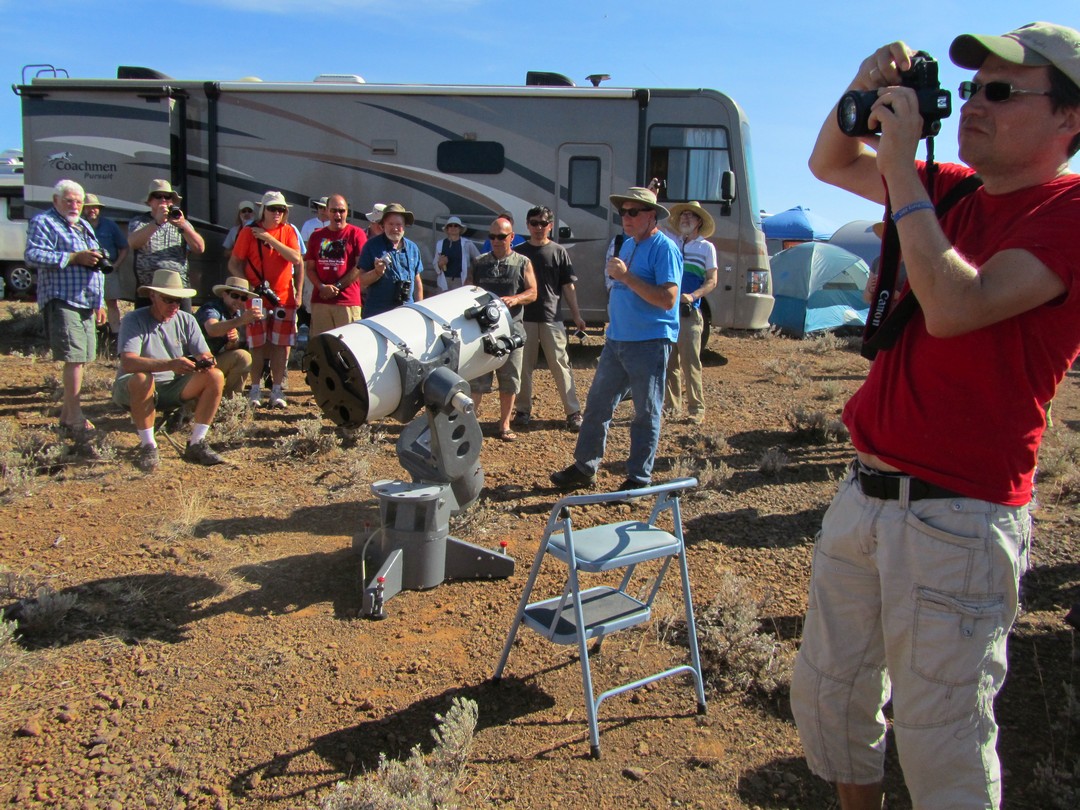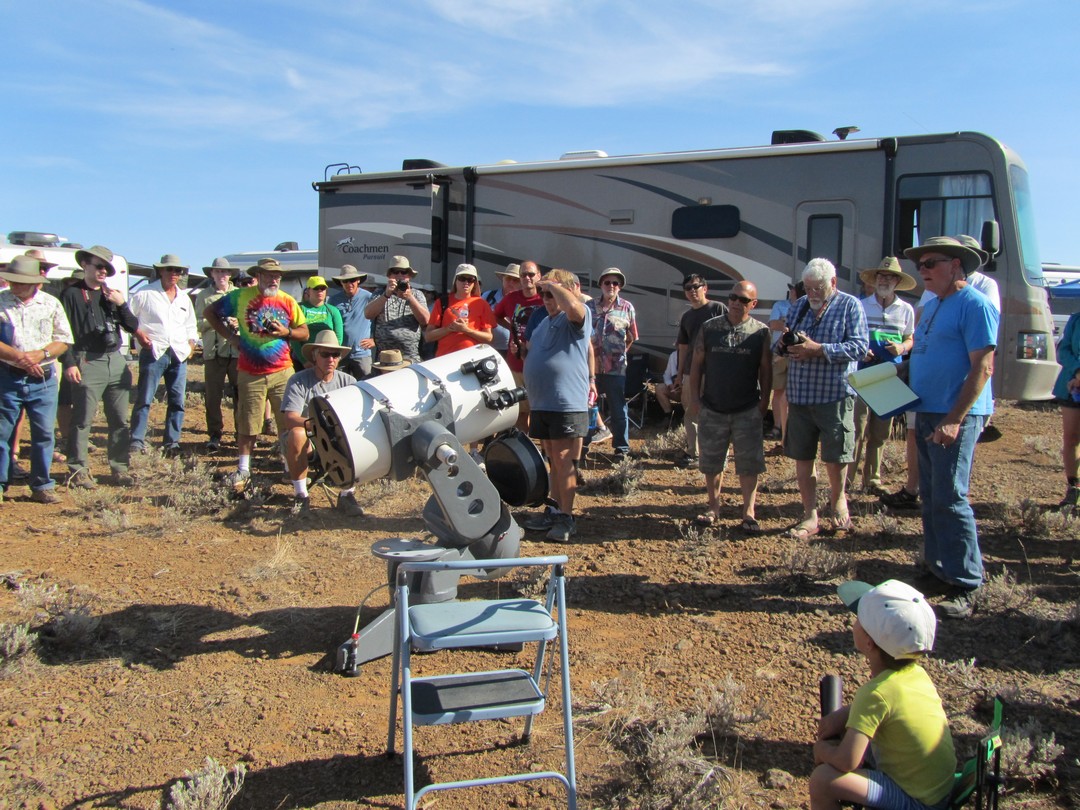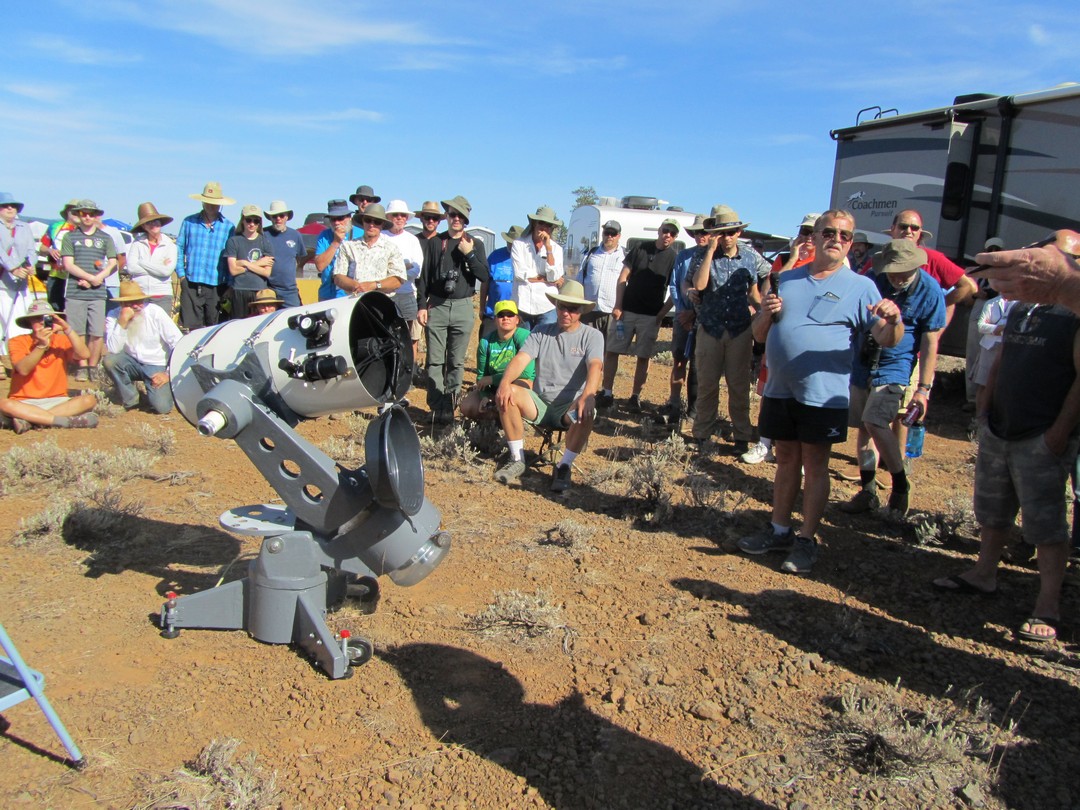 Sameer Ruiwale's 16 inch F4 Tensegrity telescope
Saw first light at star party
Had to shorten the strings just a bit
Quartz mirror by Mark Cowan
Reiner Vogel inspired mirror box with ideas from Judy Dethloff
Primary mirror cell uses two front collimation screws, the 3rd point being a pivot
Wire spider
Custom 2-axis diagonal holder with simplified adjustment
Bow string 'UltraCam' (no longer manufactured)
SiTech drive system with clutches
Very nice and compact motor and drive box design
Long altitude drive shaft that extends across the rocker
Weighs 50 pounds; about 10 pounds in the bottom base
The tube assembly's compression tubes are not parallel, instead they lean inward a bit at the upper end so that the upper end can fit within the mirror box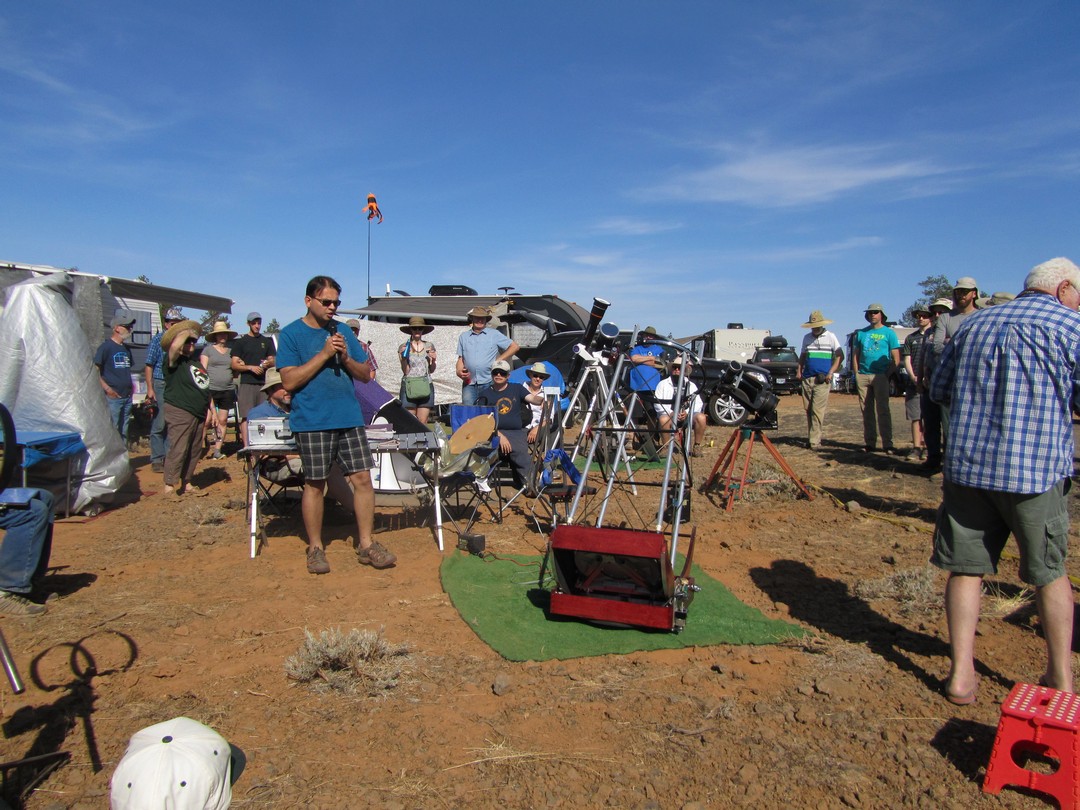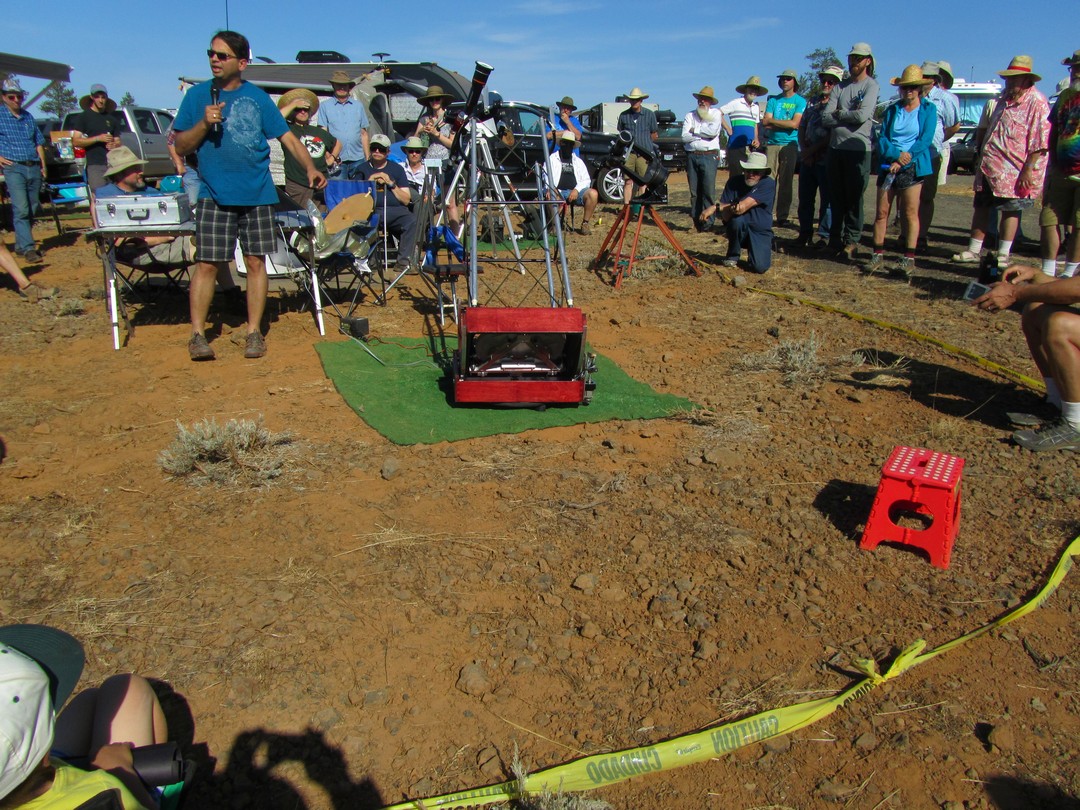 Andrew Cooper's hodge-podge tracker
Built to hold multiple lenses and scopes
Tracking for deep corona exposures
C8 mount with Meade wedge
Parts from various scopes that saw unexpected ends (one caught on fire)
Uses 'old-fashioned' 120 VAC synchronous motor
Built his own custom controller than runs on 12V DC batteries
Made new legs from solid wood for tripod support
Uses some machined parts
Custom Sun finder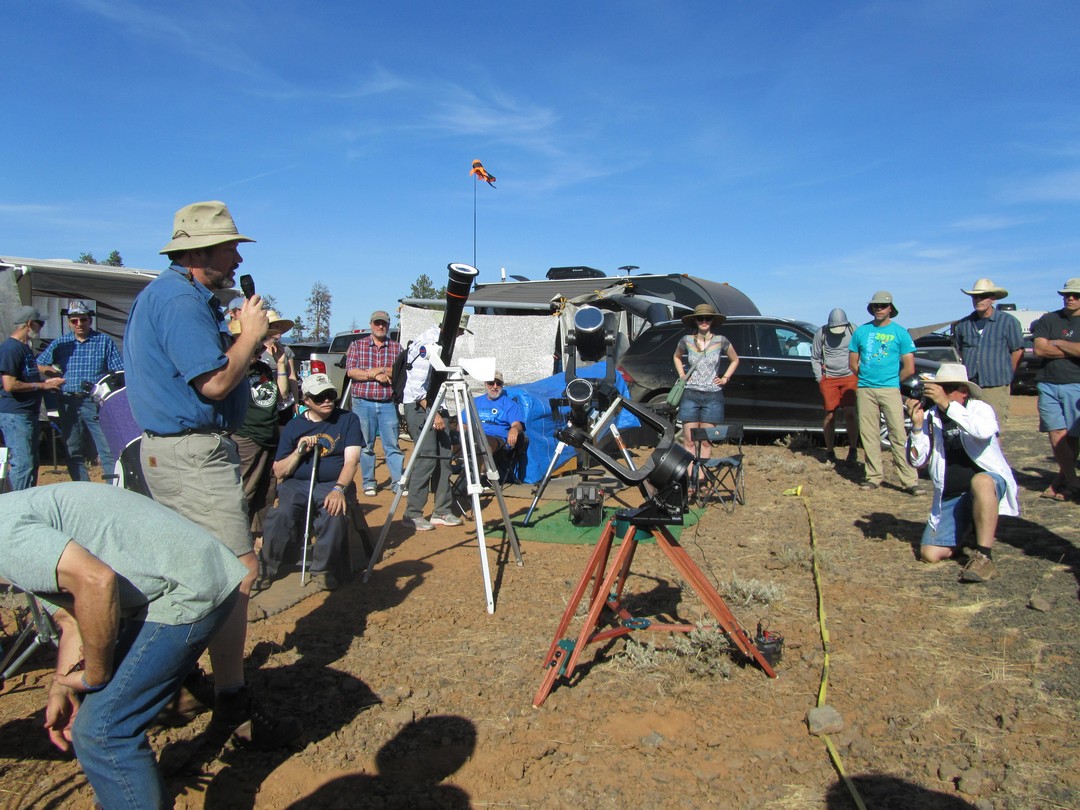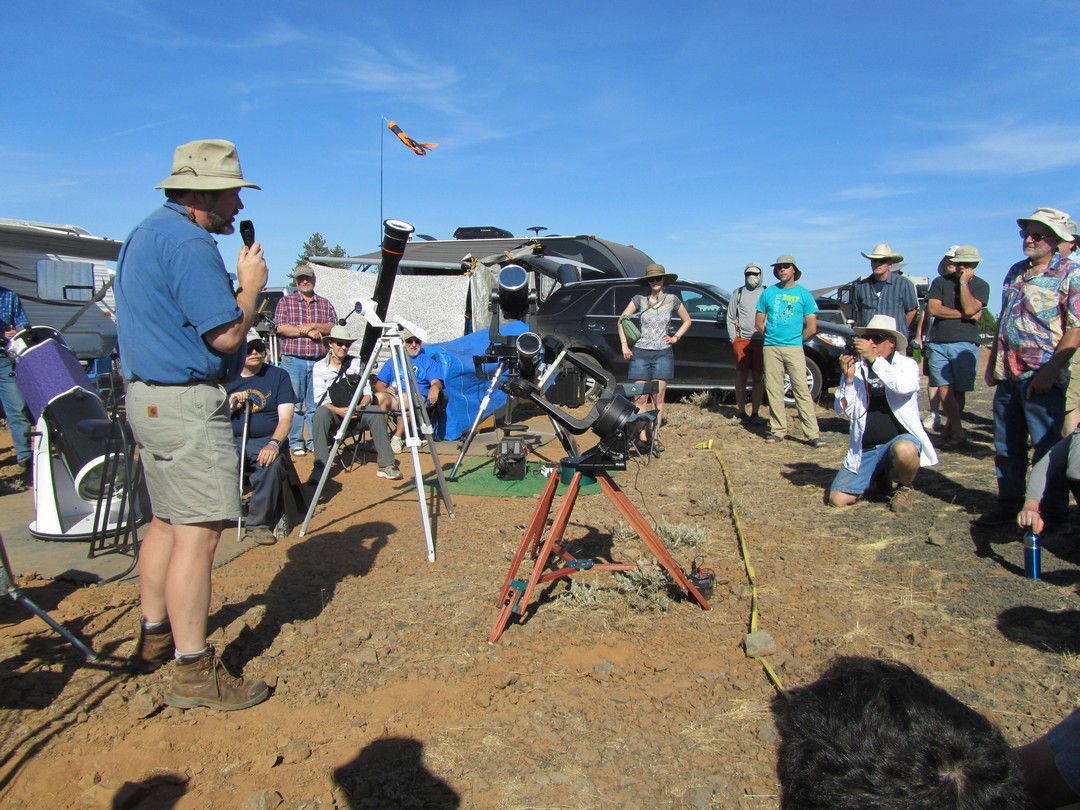 Michael McKeowns's 16 inch split-ring equatorial telescope
Spent a year designing and five years building
Built for public events: had to look big and impressive
Typically used at wineries so built so that drunks can lean on it without trouble
Uses 18V DeWalt batteries from dead drills
Uses a NetBook for wireless 'goto'
Tube from redwood fence boards
Tube was assembled, then spun while being sanded then epoxied
Painted white for public with black eye for the focuser (hence, the nickname, 'Cyclops')
3-vane curved spider
Mirror taken from another scope
18 point mirror cell
Rotating tube in cage
RA drive rim on the split-ring is an aluminum ring with a wire insert to pull it tight
Base triangle is from wood cut to size so that eventually aluminum box can replace it
Counterweighting is melted lead in MDF that was bend while hot
Built trailer for transport; ramped in and out with tackle
Tube weighs 450 pounds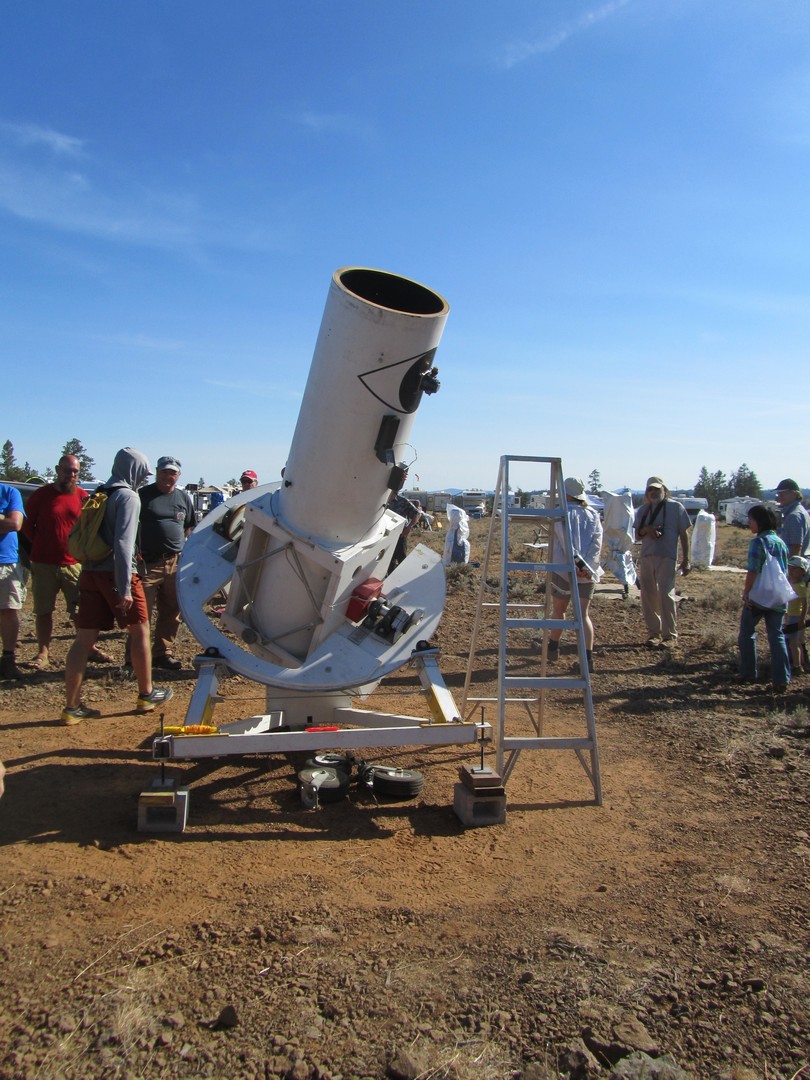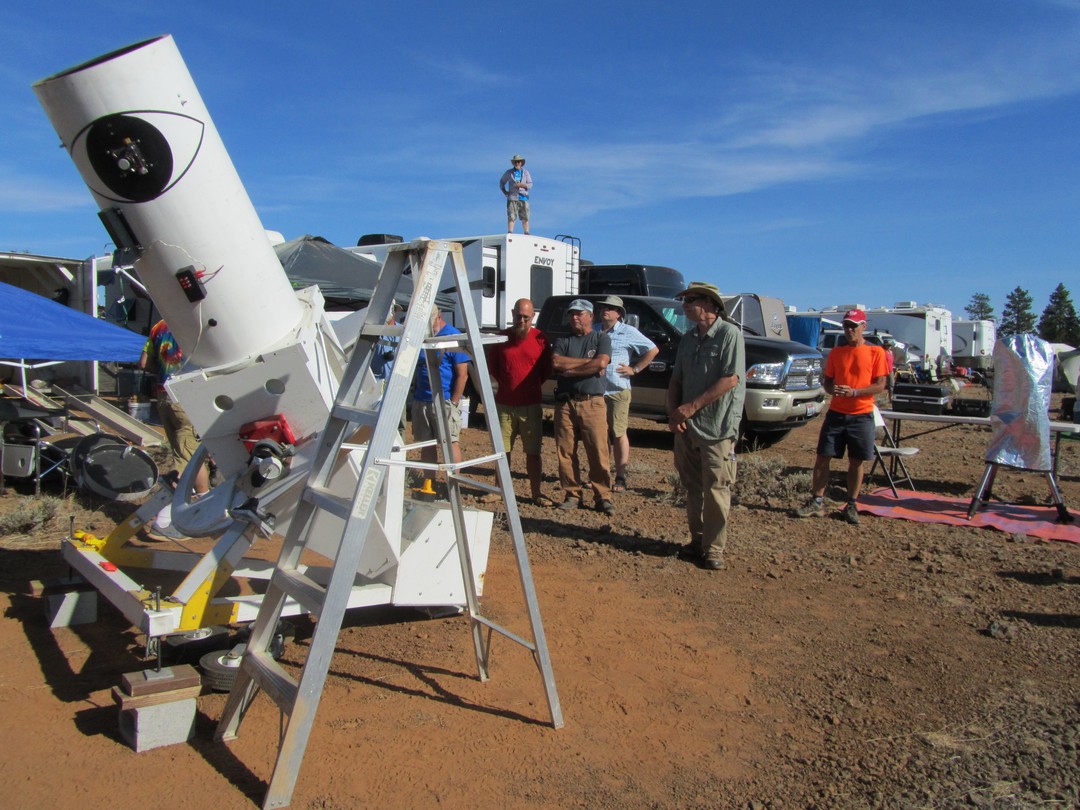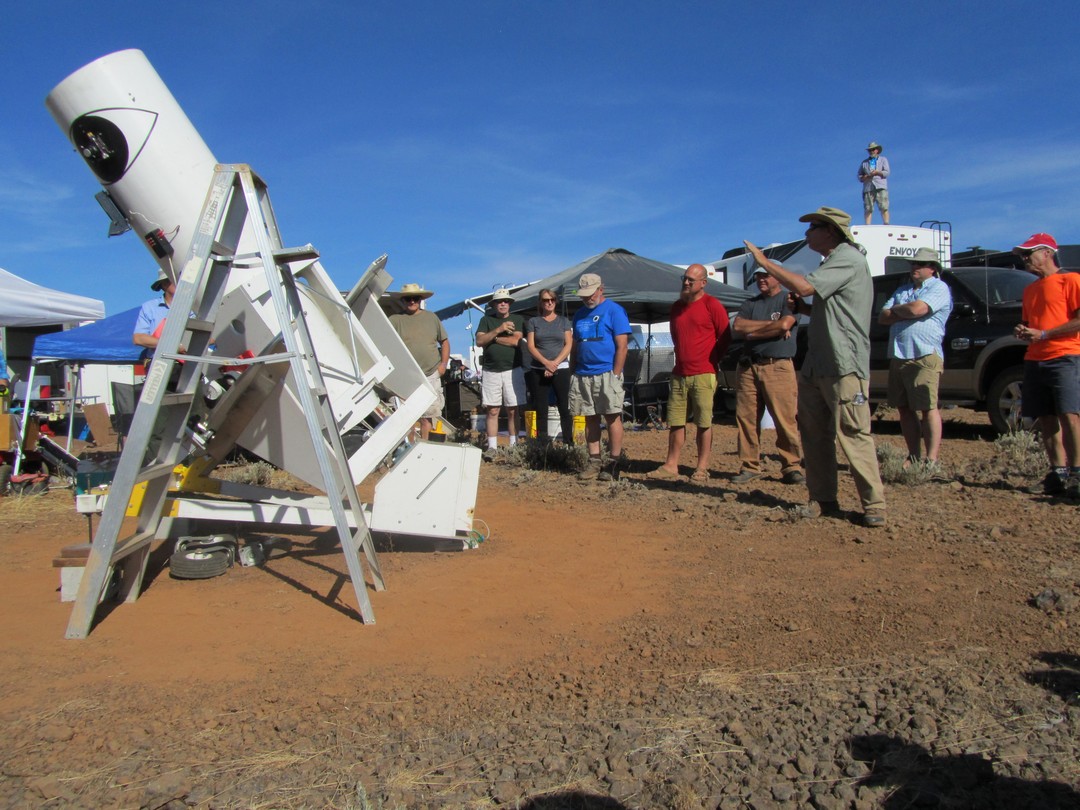 Mel Bartels