The New Sub-F3 Richest Field Telescopes
Why I see more and what it means
Why I am seeing more in my new telescopes?

Here are my three scopes side by side, a 13.2 inch [34cm] f3.0, a 10.5 inch [27cm] f2.7 and a 6 inch [15cm] f2.8.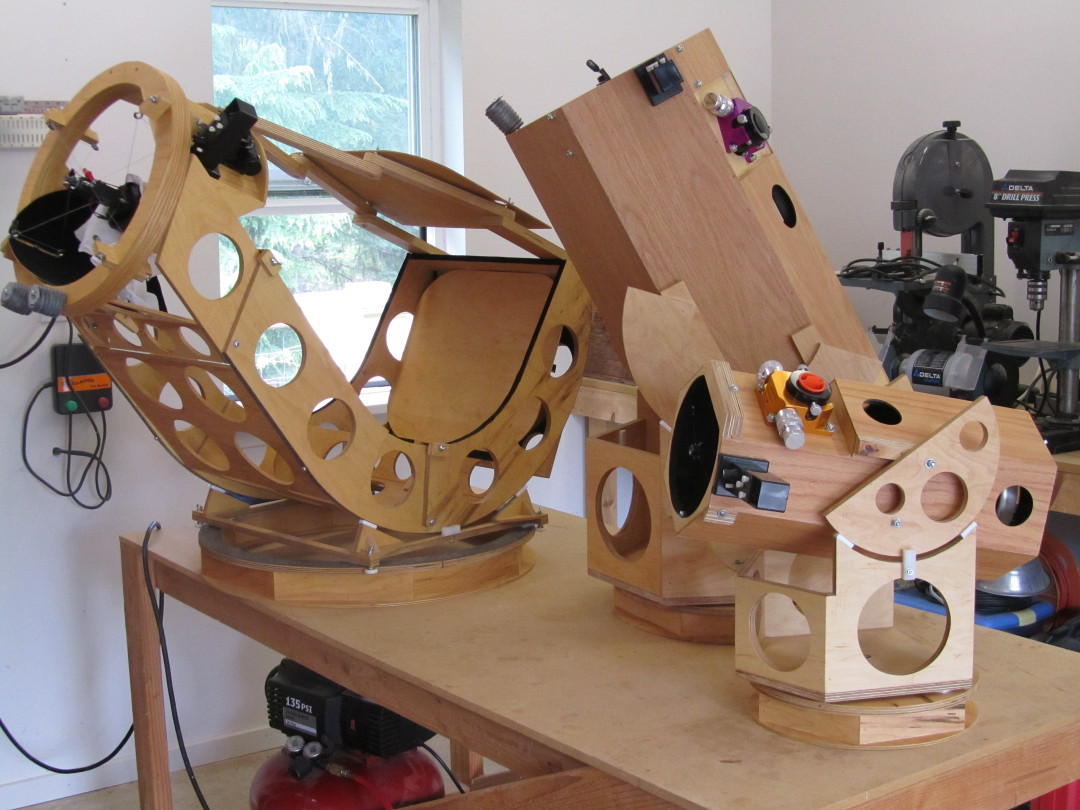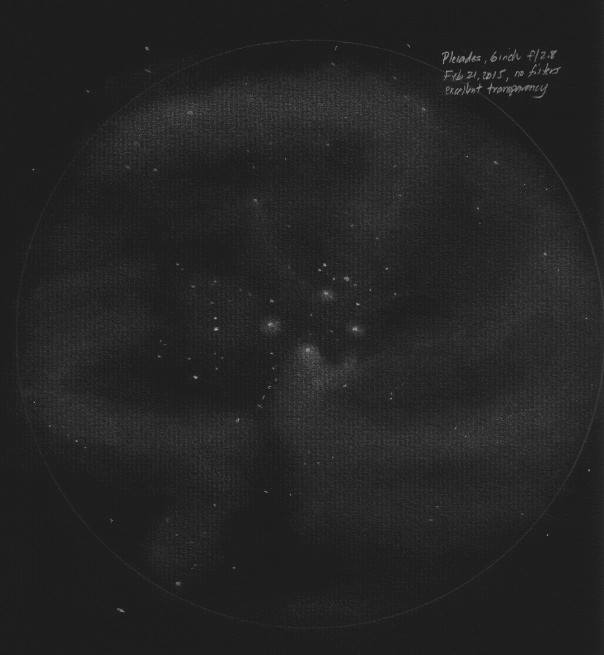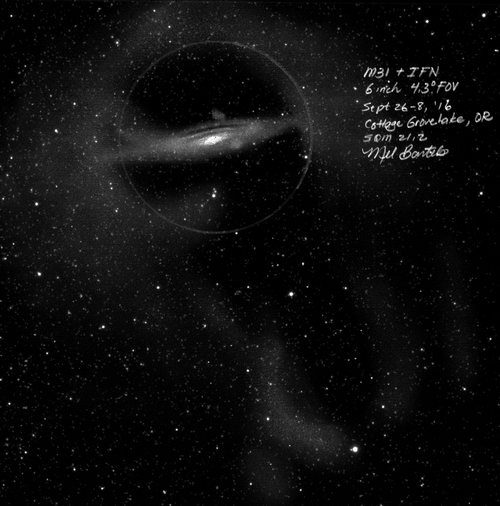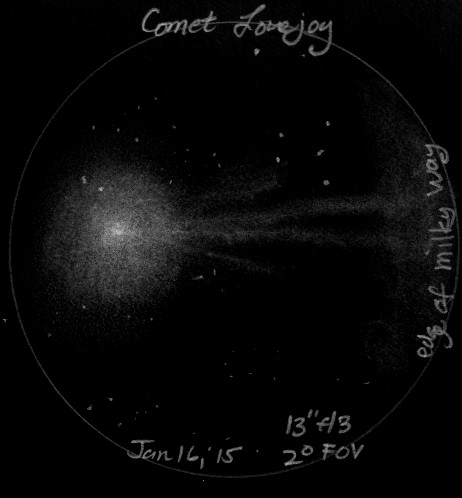 Check out my sketches of hard to see nebulae

I am seeing more with these new sub-f3.0 telescopes because I achieve the field of view that only a smaller scope previously could cover, but with more aperture. Additionally the 100 degree apparent field of view allows the image to be spread out over a larger area meaning enlarged detail.

1. More aperture for a given field of view than previously possible.
2. 100 degree eyepiece enlarges the field for more detail.

Check out my telescope criteria calculator.

I've been mulling over a new approach to observing. I'm calling it "One eyepiece, many telescopes".

Here is some of my thinking.
1. A super wide angle eyepiece is more expensive than building your own scope.
2. I would never stop down a telescope to achieve a darker field of view by shrinking the exit pupil.

Therefore, I should only use the lowest power, widest angle eyepiece that I can find. Instead of multiple eyepieces with one scope, I use one eyepiece with multiple scopes. If I want more magnification, more detail, then I go to a larger aperture scope at the cost of field of view.

Consider the expense. It cost me $600 to build all three telescopes: 6", 10.5" and the 13.2" not counting the focusers but including all else: the glass, grinding and polishing compounds, aluminizing, the secondaries, the wood for the mount and so forth. The focusers were expensive since I need precision focusing at these extreme focal ratios. The coma corrector and one Ethos eyepiece is about equal to the cost of building all three telescopes even when including the focusers.

Imagine that my 25" and 42" come on line.
First image is the 25 inch [64cm] f2.6 slumped meniscus mirror fine ground and ready for polishing; second image is the 42 inch [1.1m] f2.8 slumped mirror with a 30 inch [7cm] f2.8 in the background.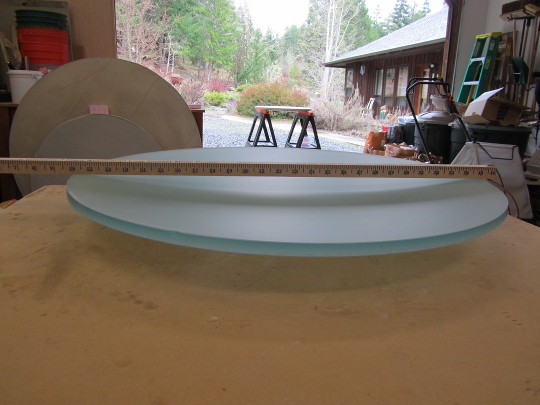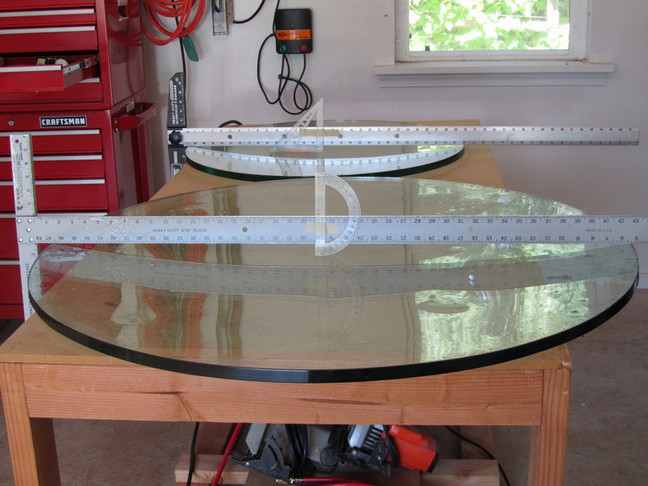 'Telescope mode' means switching telescopes while using one eyepiece. 'Eyepiece mode' means switching eyepieces with one telescope.

Here's my lineup of scopes (two not finished) and eyepieces. I swap telescopes for more magnification and magnitude penetration, using but a single eyepiece ('telescope mode'), until I reach my largest aperture scope. Then I have no recourse but to switch to 'eyepiece mode'. Keep in mind that 'eyepiece mode' is equivalent to stopping down a larger aperture (shorter focal length with smaller eyepiece will have the same magnification and exit pupil as a stopped down aperture with longer focal length and larger eyepiece).


| | | | | | | | | | | | | |
| --- | --- | --- | --- | --- | --- | --- | --- | --- | --- | --- | --- | --- |
| Eyepiece | | | | Coma corrector | | Scope | | | | | | Mode |
| Name | Focal length | Field | | factor | | Aperture | Focal length | Magnification | Field | Exit pupil | | |
| | mm | inches | | | | inches | inches | | arcminutes | mm | | |
| Ethos | 21 | 1.43 | | 1.15 | | 6 | 16.9 | 24 | 252 | 6.5 | | telescope |
| Ethos | 21 | 1.43 | | 1.15 | | 10.5 | 29.2 | 41 | 146 | 6.6 | | telescope |
| Ethos | 21 | 1.43 | | 1.15 | | 13.2 | 40.3 | 56 | 106 | 6.0 | | telescope |
| Ethos | 21 | 1.43 | | 1.15 | | 25 | 65 | 90 | 66 | 7.0 | | telescope |
| Ethos | 21 | 1.43 | | 1.15 | | 42 | 120 | 167 | 36 | 6.4 | | telescope |
| Ethos | 13 | 0.88 | | 1.15 | | 42 | 120 | 270 | 22 | 4.0 | | eyepiece |
| Ethos | 6 | 0.41 | | 1.15 | | 42 | 120 | 584 | 10 | 1.8 | | eyepiece |
| Ethos | 3.7 | 0.28 | | 1.15 | | 42 | 120 | 947 | 7 | 1.1 | | eyepiece |

Taken to the logical extreme, imagine a single telescope that encompasses several optical assemblies in two columns, stacked side by side and on top of each other. To economize, even the focuser could be swapped along with the coma corrector and eyepiece. At first blush this seems a waste of aperture but then a case of eyepieces could be considered a waste of eyepieces too!

Go here for more on the 6"
Go here for more on the 10.5"
Go here for more on the 13.2"
Go here for more on slumping meniscus mirrors
Go here for my telescope making

Mel Bartels, July 2014